Fed Up With, or Not Ready For Dentures?
If you are tired of your current dentures moving around in your mouth, and think denture adhesive is bothersome, you might be suitable for implants
It may be that your denture moves when you are eating or talking. It could be that you find the denture uncomfortable with it rubbing the gum, or catching the back of your throat.  It may even be an embarrassment when you get passionate.
It could also be that you are down to your last few teeth, and, despite modern root canal or gum treatments, you are unable to keep them.
In most situations we are able to provide a fixed denture solution by using dental implants. This replaces your missing teeth in a way as close to nature as possible, giving you the confidence and comfort to eat, socialise.
What do you say about our treatment
I can still remember how I used to dread a visit to the dentist, but thankfully that's no more than a distant memory now, thanks to Patrick. After a significant course of treatment which included a full upper arch dental implant, I can recommend the Seven Fields Dental Health Centre without reservation for all dental care. Before any treatment is given there is always a full explanation of the various options available, which is always given clearly and in a relaxed and friendly manner. I think I will always be a nervous patient, but after many pain free sessions while my teeth were being restored I might soon be actually looking forward to visits and regular check-ups with Patrick and of course the wonderful Melissa!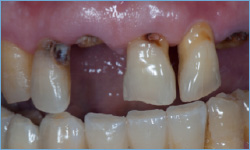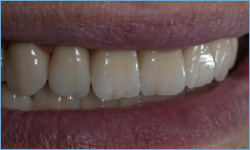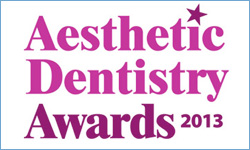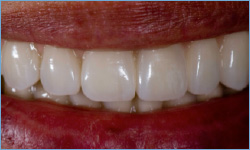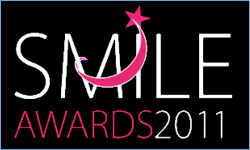 Multiple Implant Case Winner
Best Overall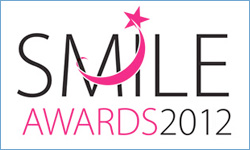 Multiple Implant Case Winner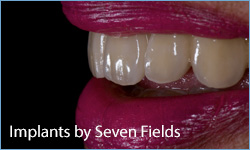 Does it hurt?
For full arch work we recommend intra-venous sedation, in addition to local anaesthetic, and with the combination of these two, there should be no discomfort at all.
Afterwards, you may need to take a couple of normal painkillers, such as ibuprofen, or paracetamol that evening, and perhaps the next day.
Does it always work?
Like anything biological there can always be aspects of treatment which do not go exactly as planned. For full arch treatment, although we have a 100% success rate, there are times when we need to do treatment on individual implants before we construct the bridge
As part of the package we provide insurance for the first year to cover any problems. Should you wish you can extended this.
How many implants do I need?
By following a very strict protocol, we can restore your mouth with as few as four implants, although sometimes we will place five or six per jaw.  Using fewer implants has been shown to have the key advantages of the same success rate, fewer side effects, and an increased number of suitable cases.
Teeth in a day
We have worked for five years in developing a predictable protocol which can offer temporary teeth fixed within a couple of days of the implants being placed. We then finalise the appearance, aesthetics and comfort once the healing is complete. During this time you continue to enjoy the benefits of the fixed teeth.
Can you always place immediate teeth or 'teeth in a day'?
In order to place immediate teeth, we need the implants to have a certain stability as they are placed.  If we do not get this, then we do not take the risk of placing immediate fixed teeth, but instead fit the previously prepared denture.  We would still be able to proceed to the final teeth in three months. In over 80% of cases we are able to use the fixed teeth.
When are the immediate teeth placed?
We can go to fixed teeth within a couple of hours of the implants being placed, but this relies on an all plastic bridge, re-lined in the mouth, which is not as strong as a laboratory fabricated alternative.  If you can go without teeth for a one to two day period, we would prefer to take records on the day of the surgery, and within a couple of days, the laboratory can have the temporary teeth. Approximately three months later we can make the final teeth
Is everybody suitable for implants?
The techniques which we use do allow us to treat the vast majority of people. There are times when we are not able to, due to very little bone, or some medical conditions, such as uncontrolled diabetes.  We can discuss alternative treatments in these circumstancesThe placement of an implant tends to be an area of treatment that causes concern to patients.  This is very understandable, as it is obviously something which you have not had done before.  We have found that all of our patients find it very comfortable, and many of them actually go to sleep!  Many patients feel  that some sedation may be sensible, given the length of time that the procedure may take.