Individual Implant Replacement
"Losing your tooth, especially your front one, can be devastating. We can help either with the replacement, if its already gone, or with the transition, it you have a tooth that needs removed
With success rates of well over 90% at ten years, not surprisingly we always like to carefully consider the option of using implants"
Patrick Holmes. Clinical Director
Why pick us ?
Implant dentistry and Cosmetic dentistry meet at Seven Fields
Nowadays many dental practices include a bit of implant therapy in their 'box of tricks'.
We have Dr Seddon who has placed over 8000 implants, and Dr Patrick Holmes, who has concentrated on aesthetic and cosmetic dentistry for all his practising career.  We make sure we combine our skills, to offer excellent cosmetic dental implants.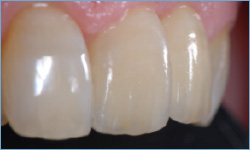 Two Implants
Teeth By Seven Fields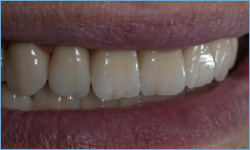 Four Implants
Teeth by Seven Fields
What is Actually Involved?
The placement of an implant tends to be an area of treatment that causes concern to patients.This is very understandable, as it is obviously something which you have not had done before. We have found that all of our patients find it very comfortable, and many of them actually go to sleep!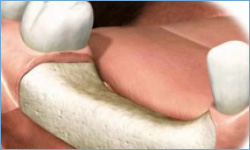 The procedure itself involves
a small nick in the gum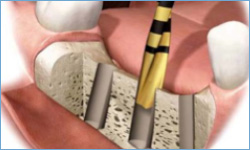 Space is created for the implant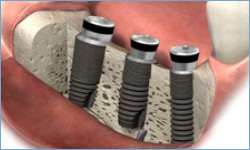 The implants are then placed.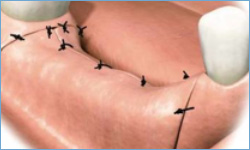 The gum is then placed back.
What Anaesthetic is Needed?
For the vast majority of patients, we simply numb up with an injection. But if you are nervous, we can use one of the forms of sedation which we offer. We will discuss this with before, to make sure you have the best experience..
Does it hurt?
None of our dentistry should hurt, and implant dentistry is no exception.
You might feel some pressure, but if you feel actual pain, even slightly, we are delighted to stop, and add more anaesthetic.
Afterwards, whilst it is always possible to have some swelling, bruising or discomfort, this to be the exception rather than the rule.
How Long Does it Take?
The Appointment
The actual placement of a single implant is done in under half an hour typically, and the actual implant drilling and screwing in, can be done in five to tens minute. Your actual appointment will be for over an hour, while we make sure you understand is going to happen before, and to explain how to look after both yourself, and the implant afterwards..
The Course of Treatment
The treatment typically takes in the region of 3-4 months in total, from when we place the implant. The first three months are to allow the implant to heal, and the last month to make your new crown.
If we need to work with an interim crown, this might add a couple more months, but of course, there is a tooth in place during this stage.
What Else Do I Need To Know?
Before we undertake any treatment we will make sure that we cover all key factors with you, so that you know both what to expect during the treatment, and what might happen after, but here are some of the common areas we discuss.
Bone Grafting
When you lose teeth, you tend to lose bone, either from the extraction process, or from reorption later, and so you most likely will need to add bone around the implant site. We use a synthetic, laboratory made material, which resorbs, and is replaced with your own bone. In the vast majority of cases we are able to do this at the same time as the implant placement, to help you avoid multiple surgical stages.
After-care
It is very important that you look after any implant work in the same manner that you need to look after teeth. Implants can develop problems, and indeed fail, and good home-care dramatically reduces this risk.